MULTI-LEVELED SYSTEM OF SUPPORT
WHAT IS MLSS?
MLSS (Multi-Leveled System of Support) is a federal and state mandated data- based decision-making process designed to help schools focus on high-quality, scientific-based instruction and interventions.

MLSS is an integrated system of behavioral, social, emotional, and academic support.

MLSS includes all educators and learners.

MLSS addresses problems through a three-tiered system of support.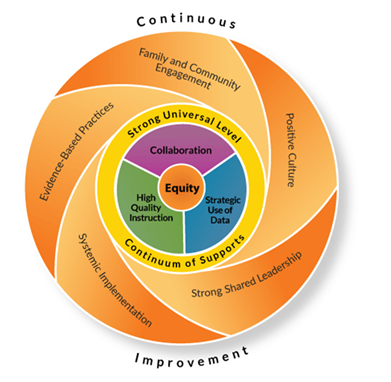 MLSS IS NOT...
The job of a few specialists. General educators play a key role in helping assess and monitor student progress.

An excuse to delay or deny a special education evaluation. Parents can request an evaluation at any time.

A separate program or class, but rather a way of organizing instruction to help all students.

A direct path to a special education referral. MLSS encourages the movement of students within tiers based on individual need.
VISION STATEMENT
It is our vision to help each student achieve to the fullest potential.
MISSION STATEMENT
The Fall River School District, in partnership with family and communities, will provide opportunities in a safe and challenging environment to empower students to be respectful, resourceful, and responsible citizens who are able to succeed in the global community of the 21st Century.